"An organization's ability to learn and translate that learning into action rapidly is the ultimate competitive advantage." — Jack Welch, former General Electric CEO1
In today's fast-paced world, the growth of a company is intertwined with that of its employees. There are two types of growth and development processes that companies practice. One is incidental, or situational. This kind of growth stems from gaining experience or expertise by doing something again and again. Another kind originates from curiosity, this happens out of a desire to know and learn more. In an organization, both kinds could be present, or one could be more in action than the other. However, which company do you think will move faster towards success?
To succeed, organizations must create a culture not only of learning but also one that takes care of an employee's growth. If employees in a company are feeling stuck, then it is time to introspect. According to Randstad's worldwide research, 47% of employees consider leaving a company because of a limited career path. This is especially true for highly educated employees. Offering more money in terms of higher packages may not always make the employees stay with the firm. According to the same research, 38% of people choose 'career progression' as one of the top 10 reasons while choosing a new employer2. Clearly, employees are looking for opportunities to learn, grow, and master their skills.
Important aspects to reach competence
To grow, companies need to constantly evolve. There are examples of various businesses not surviving because they could not evolve or embrace changes that became necessary. Therefore, employees consciously look for organizations that have a growth path. Moreover, employees wish to learn and grow their skill sets themselves and a culture of learning would thus become ideal. Organizations can create the same by focusing on the nuances of what a culture of growth and development entails. Holistic growth and development for any individual stems from creating opportunities in three directions, as defined below.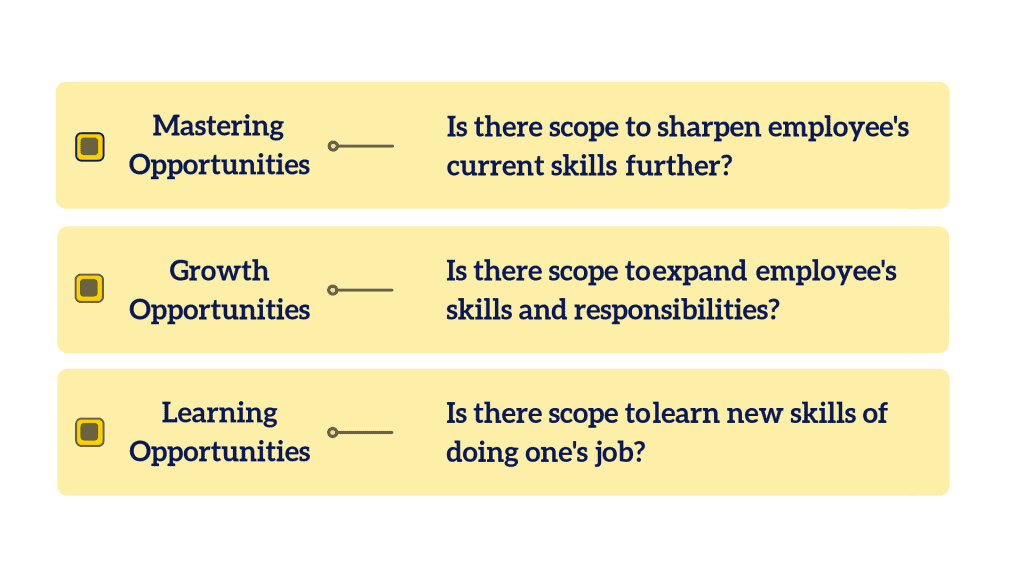 According to Udemy, 42% of employees wish to work for a company that gives importance to growth and development3. Furthermore, when it comes to millennials – a generation that is covering more and more space in the workforce with time – 86% feel career training and development would prevent them from leaving their jobs. In addition, if a job lacks opportunity for growth and leadership development, 67% of millennials would look for another job4. Clearly, it is an aspect that employees want in their jobs. According to Findcourses.com, 42% of professionals indicated that employees that look for learning opportunities are more engaged in their work5.
"Workers reported that companies generally satisfy their needs for on-the-job development and that they value these opportunities. But they're not getting much in the way of formal development, such as training, mentoring and coaching – things they also value highly." – Monika Hamori, Jie Cao and Burak Koyuncu, Harvard Business
 Companies can create a culture of growth and development by creating scope for employees to learn new skills. One way to do so is through training. According to Udemy, 70% of employees feel this would help them be more focused but 66% are apprehensive of asking for such training from their managers3. Furthermore, in absence of proper training, 40% of employees will leave their jobs within the first year6. Consider the impact employee retention has on company costs. It is thus, important to keep in mind proper ways of acquainting an employee with his/her work. This is probably the reason why training and development processes rose by 15% from 2014 to 20157.
Companies might not have to set up a proper training process. There are several ways to engage in ways of learning and training skills. An example could be Google's initiate of 'G2G' (Googler to Googler) learning where employees volunteer to teach each other skills8.
Apart from a learning culture, employees also wish to master their current skills as well as look for expanding their responsibilities. As per an SHRM report, 37% of people consider the variety of their work as 'very important'9. Learning helps employees in growing better at their jobs and thus, they seek employers that will take care of this need. This is not just for the benefit of the employees. Considering employees make up the organization, a learned and developed workforce would indicate a highly competent organization.
Case Study10
Best Buy, a US-based company, invested in the culture of learning and development through their 'Path of Excellence'. It was a program aimed to support training modules and to recognize and reward individuals for learning achievements. Based on what level employees are at in their career paths, they got rewarded. For instance, an employee would get a bronze status when they prepare for a new role. They will move to silver status on further enhancing this skill by more advanced learning. This would be followed by the gold status, which an individual is recognized with once they start leading in that area. They reach the ultimate level, the platinum status, once they have completed the leadership module.
Furthermore, employees earn pins for their achievements, points they can exchange for customized rewards. In addition, there were departmental appreciations and specific rewards for displaying the learning behaviors. Results of this inactive? Best Buy saw an exceptional company performance improvement in three areas: their close rate improved by 129 basis points, their revenue per transaction increased by 3.31$, and their services and connections sales increased by 37 basis points.
Culture of Growth and Development
A culture of growth and development of employees is imperative for any growing organization. It is inevitable and thus, wise for companies to implement ways in which this could be done right. A way to imbibe growth and development is by linking the same with an individual's performance management. This would ensure a conversation regarding the learning employees went through while completing their goals. Leaders can further encourage these behaviors by recognizing those who engage in learning activities and those who help others in learning more. By encouraging peer learning, companies would also inculcate the ownership feeling in employees to go above and beyond their usual job.
References: