Take customers out of the equation and there is no business left. There is no doubt customer satisfaction is important, but exactly how much? According to a poll, around 82% of customers read reviews before purchasing a product/service, and 93% of them said these reviews molds their decision of buying. About 63% of people said they are willing to pay more if they believe they will have a better experience, clearly selling cheap is not the easy way out1. The example of Nordstrom further adds substance to this, considering it is a chain of luxury stores. Moreover, it has been appearing on Forbes' list of "100 Best Companies to Work For" for the past 20 years.
"Every Nordstrom employee (whether they work on the sales floor or in a support position) is focused on making people feel good, and our culture is centered on creating an environment where our people feel supported and empowered to do just that. We encourage our employees to work as though it's their name on the door — to build their own business and do what they feel is right to build lasting relationships with their customers."

– Mary Porter, VP Human Resources, and an employee for the past 23 years2
Nordstrom is known for its excellent customer service. It has created a culture where people are aligned to the company, have autonomy, and are empowered to take charge. They further ensured that such values are communicated and induced in the entire company, rather than in just one department.
Customer Satisfaction is critical for the success of any company
Let's go back to 1980, when Firestone3, a tire company, took several initiatives to architect a turnaround. It closed several divisions, cut down on its customer service, got outsiders to fill in managerial posts, and began a strict top-down approach. These initiatives saved the company from bankruptcy but could not save it from being sold eventually. On the other hand, Goodyear, another tire company, took initiatives that kept the long-term interests of workers and communities in mind, retained most employees by opening newer facilities near closed facilities, and continued putting efforts into customer service and thus, ensuring future growth.
The former ignored what is most required for a company to run successfully: its people that together make the company culture, and customers that buy its products. According to a 2012 study, 69% of employees agreed that they would not take up a job if the company had a bad reputation and 84% would consider joining a company with a better image4. According to another study, 75% of employees said they would stay longer at an organization that addresses their concerns4. Clearly, it is not just about responding to customers but about valuing any concern that lands in a company's way. The important factor here is to listen, acknowledge, and act on it. If employees are being heard, a culture of listening to concerns is created. This is how eventually a company will also induce a culture of customer care in the whole organization.
Nordstrom gives only one rule to its employees, "Use your good judgment in all situations. There will be no additional rules." They ensure the same by encouraging their employees to be independent, making them perform as if they are the owners of the firm. As a result, their culture is performance-focused, high on ownership, has a better alignment, and this all adds to great customer service.
Design of internal culture has an impact on Customer Satisfaction
''We keep improving our ability to translate what we are as a company with the people that we bring into other new markets. We can communicate who and what we are, and what we want to be; and then attract the kind of people that want to be on the team, to play retail the way we want to play it – as a profession that people can be really proud of.''

– Jack McMillan, Former Co-President & Co-Chairman at Nordstrom who began as a shoe salesman
According to Cvent, on average, customer retention rates are 18% higher when employees are highly engaged5. Research by Schneider (1991) concluded that there is a positive correlation between employee and customer satisfaction, and this stands true for all types of businesses6. The research concluded that the causation impact between employee engagement and customer satisfaction is as high as 0.437. To relate to this number, according to a report in American Psychologist causation between smoking and lung cancer within 25 years is 0.08. The key factor in increasing employee productivity is by working on the company culture. Taking forward the example of Nordstrom, the following are a few aspects because of which they can ensure great customer service: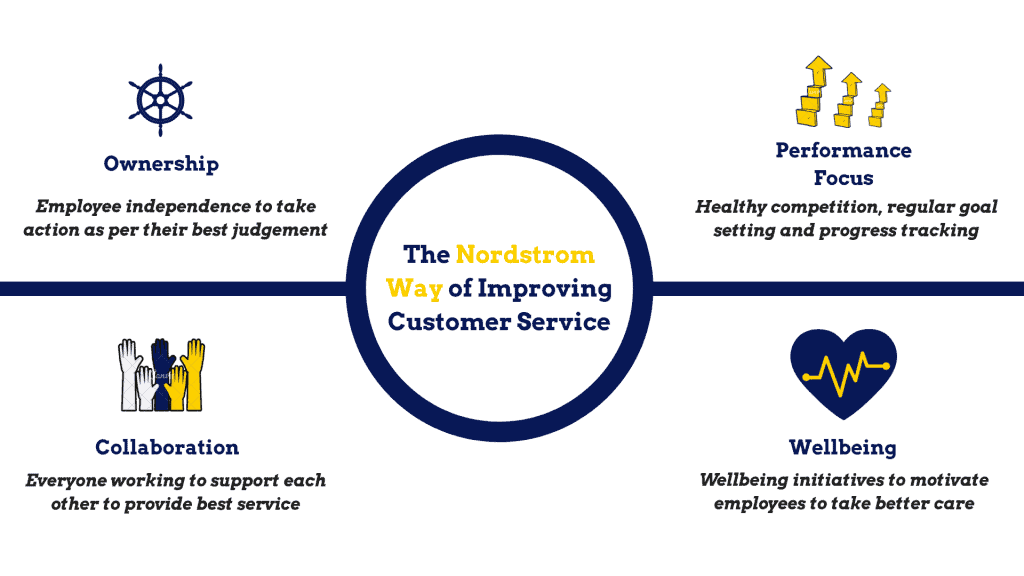 Right Culture, Happy Employees, Happier Customers
Customer satisfaction is in the hands of the company and its employees. If organizations provide their employees with a supportive, trustworthy, and healthy culture, employees will intrinsically care about the customers. However, dissatisfied employees do not care if the company is getting good reviews or not and unhappy customers could lead to annual losses of more than $537 billion7. Furthermore, competent employees also tend to judge a company based on their reviews. As much as 76% of individuals would choose not to accept an offer from a company with a bad reputation and 93% would leave their incumbent firm for a better-reputed one7. Clearly, a business's revenues, as well as retention of competent employees, depend substantially on customer experience and company reputation and vice versa. It is important companies do everything in their power to promote a culture that enables customer satisfaction.
References:
https://www.thedrum.com/news/2017/03/27/online-reviews-impact-purchasing-decisions-over-93-consumers-report-suggests
A Longitudinal Analysis of Satisfaction and Profitability by Kenneth L. Bernhardt – GEORGIA STATE UNIVERSITY, Naveen Donthu – GEORGIA STATE UNIVERSITY, Pamela A. Kennett – UNIVERSITY OF SOUTH ALABAMA
https://www.forbes.com/sites/kevinkruse/2014/01/07/employee-engagement-the-wonder-drug-for-customer-satisfaction/#58c6d1376d46