"A leader's job is not to do the work for others, it's to help others figure out how to do it themselves, to get things done, and to succeed beyond what they thought possible". 

– Simon Sinek1
Competent leadership has become a strategic advantage and undoubtedly, all companies strive to find themselves the best ones. In today's time, when a workplace has a mix of several generations in its workforce, the way leaders behave is also changing rapidly.
Leadership development is not just for individuals in senior positions, but the time calls for every employee to be competent leaders in different capacities. According to Brandon Hall's State of Leadership Development 2015, 83% of companies believe employees at all levels should be developed as leaders2. This does not mean there is no distinction between a leader and his/her team. The difference is in the experience and the depth of knowledge in a field. However, leaders should create an environment to motivate the team to perform without being too dependent and without compromising on quality. The leader is there to develop, inspire, and make sure what the team is doing today will add to the future goals of the company.
Developing leadership qualities at all levels
According to Deloitte's annual Millennial Survey 20153, which covered 29 countries and 7,800 individuals, 53% of employees globally aspire of being a leader or most senior executive in their respective companies. However, only 27% of men and 21% of females believed their leadership skills are developed. In 2018's annual report4, which included 12,299 responses worldwide, many continue to feel they are not capable enough to compete in the industry. More than a third of the participating companies believed that interpersonal skills are important for their employee's and leader's development, but only 26% of companies offer development initiatives.
To develop leaders, companies must analyze and invest in the right interventions. For instance, the Piramal group, which won 2017's SHRM's award5 in Accelerated Leadership Development, includes interventions that make sure its own employees are being developed in a manner suited for a leadership role. Their aim is to "grow their own leaders".
"We aspire to have 60% of our open positions at senior and mid-management, staffed by internal promotions of high potentials, within a 3-year time frame. In order to meet the ambitious 2020 Vision, Piramal as a Group is committed to augmenting the talent pipeline by focusing on both, talent acquisition and talent development."

– Piramal Group
Thus, organizations will know how to develop leaders once they understand their existing company situation and future objectives. The process should be strategic and well thought of, before going forward with any action. Leaders are the ones who lay the path for the company's future, and the best way to ensure the path is going to be safe is by investing in the right practices today.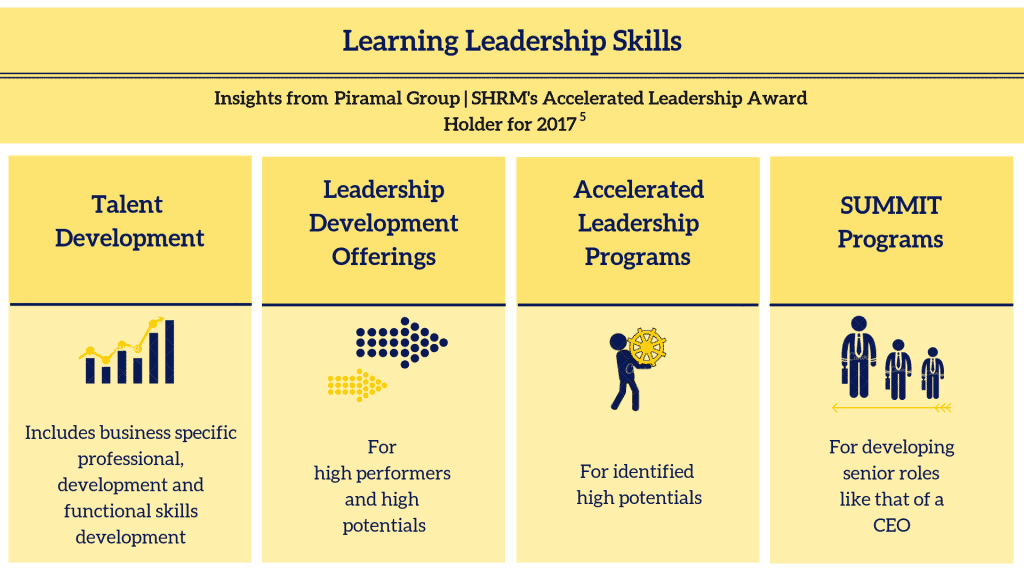 Contribution of existing leaders
"Ultimately, leadership is not about glorious crowning acts. It's about keeping your team focused on a goal and motivated to do their best to achieve it, especially when the stakes are high and the consequences really matter. It is about laying the groundwork for others' success, and then standing back and letting them shine."

 — Chris Hadfield, astronaut and former Commander of the International Space Station6
In a world where changes occur by the minute, it is important for a leader to be agile and act as per the situation. For instance, according to the Global Leadership Forecast 20187, leaders who are willing to embrace the digital-era changes outperform others by 50%.
Leading by example is the need of the hour and has become a necessary practice. Mahatma Gandhi was able to influence an entire country to stand along with him because he did not just preach, but followed what he believed in. Every company has a vision that it strives for. When leaders act along the same lines as they preach, they generate a sense of alignment and respect for themselves among their team. This creates similar sets of behaviors that are critical for a company to win the competitive game. Leaders' actions set a trail of behaviors. If they behave well, there is a high chance employees will follow their suit, which will lead to a strategically aligned culture. However, if leaders do not walk the talk, their employees will most certainly lead to a misaligned culture.
Eventually, aligned company culture will create leaders who already are following company values and thus, are bound to do well. In addition, leaders should encourage, teach, and motivate the employees to think and act like leaders of the company. They need to provide employees with autonomy, trust, and space to do the job right. It simply means that employees will excel and grow most in presence of a mixture of external help and self-learning. According to the Global Leadership Forecast, to attain leadership skills, employees prefer the following in the same order:
Coaching from external mentors (74%)
Formal Development (60%)
Short-term Developmental Assignments (50%)
Leaders should thus coach their team members, so they can grow beyond their roles. According to a study, the absence of good leaders can lead to 37% of employee turnover8. Companies are increasingly providing their employees with developmental practices, and thus, increasing the leadership potential. This puts leaders in a responsible position since they would be the ones to promote and accelerate the development of their employees along with their own.
How it all affects the company culture
In a Harvard Business Review, Jim Whitehurst9, an ex-board member of the United Airlines, speaks about leadership and its relationship with the company culture. He shared how all meetings would start by discussing factors related to safety. This was because United Airlines' culture values safety above all things and since leaders' behaviors are most likely to be mirrored by employees; it only made sense for them to begin on that note. Thereby sending a message through their action, that they are acting on what they communicate.
"It's easy to think that building a culture is about other people's behaviors, not how you act as a leader. But I believe that culture change begins when leaders start to model the behavior they want the organization to emulate." 

– Jim Whitehurst9
According to S. Chris Edmonds, author of "The Culture Engine" and founder of The Purposeful Culture Group10, performance can increase by 30% to 35% due to a good culture but can also fall just as quickly if there is a bad leadership replacement. Thus, the need to develop leaders across all levels is pertinent and in the interest of the companies. With strong leadership qualities in its employees, a company is likely to become more performance-focused, independent, and eventually more successful.
Reach out to us at [email protected] to know how we are helping organizations to convert employees into leaders within their own sphere.
References:
http://www.brandonhall.com/mm5/merchant.mvc?Screen=PROD&Product_Code=IP15+-+State+of+Leadership+Development+2015
https://www2.deloitte.com/content/dam/Deloitte/global/Documents/About-Deloitte/gx-wef-2015-millennial-survey-executivesummary.pdf
https://www2.deloitte.com/content/dam/Deloitte/global/Documents/About-Deloitte/gx-2018-millennial-survey-report.pdf
SHRM INDIA HR EXCELLENCE AWARDS 2017, Award Winners' Case Studies
https://www.ey.com/Publication/vwLUAssets/ey-the-global-leadership-forecast/$FILE/ey-the-global-leadership-forecast.pdf